Bushcraft & Survival in Kolarbyn
A pleasant and interesting experience in Kolarbyn Eco-Lodge and it's surroundings
In a collaboration between Kolarbyn Eco-Lodge and Jonas Vildmark Bushcraftcenter we offer you a 3-day experience and a course in Bushcraft and Survival. These are two different subjects that may well go hand in hand when you find yourself in an unexpected survival situation. Bushcraft skills can help you in a extreme survival situation in the woods.
In this course, besides defining these two subjects, we also cover the basics of; fire, water and shelter, together with the psychological and physical factors of Survival.
Place: Kolarbyn Eco-Lodge, Skinnskatteberg
Duration: 3 days
Course fee: From 3480 SEK per person (VAT included)
Course dates: September 27th-29th 2019,October 4th-6th 2019
More info and booking
We recommend you bring; sturdy and warm clothes for all weather, sleeping bag, sleeping mat, head lamp with extra batteries, filled water bottle, note materials and snacks. When the mosquitoes are active it's also wise to use long sleeves and bring repellent and a net hat.
For more detailed information and booking your spot; please visit the Kolarbyn website by clicking HERE .
You can also follow each course via Facebook; click HERE .
Welcome to the magic forests of Bergslagen Sweden!
Program *
Day 1:
Check in at the reception of Kolarbyn.

A host will meet and greet to show you around the lodge site.

A simple dinner is found in Kolarbyn's larder.

The night will be spent inside one of the forest huts in Kolarbyn.

Day 2:
Breakfast in Kolarbyn.

24 hours of theory and practice inside Kolarbyn and in the surrounding woods, together with an experienced Instructor. Start 10.00.

A simple lunch before a short hike.

A simple dinner and fika in the woods.

You have the possibility to spend the night inside the emergency shelter you will build during the day.

Day 3:
Restoring the campsite.

Breakfast, summarizing and finish inside Kolarbyn.
*Changes may occur, for instance, in case of a fire ban; no open flames will then be used.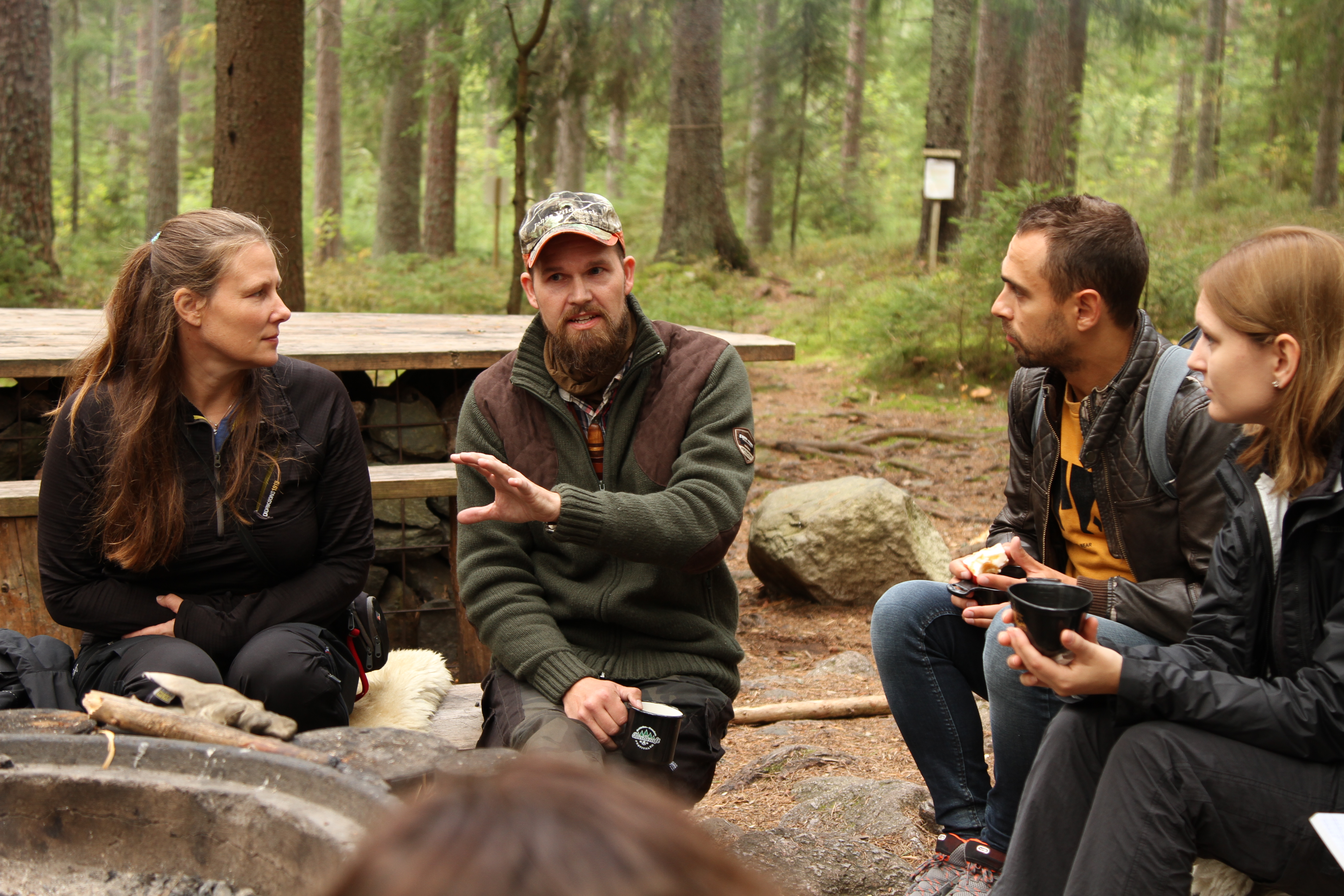 Tailor-made Trainings
Trainings and Events
Jonas Vildmark Bushcraftcenter has a solid record of managing everything from big international events to coaching you as a lone adventurer. By letting us tailor your training you get the most out of your time invested in your upcoming outdoor experience.
Jonas Vildmark Bushcraftcenter is today an inspiring network of highly skilled friends passionate about Bushcraft and Survival. Because of this; Jonas Vildmark Bushcraftcenter cover all aspects of Bushcraft and Survival. We connect the right people with the right skills in the right context in the right moment, your moment.
Don't hesitate to contact us and letting us make your idea reality. Looking forward hearing from you.
Welcome!